In August of 1974, my family moved into our house in Orange Park, Florida, a suburb just south of Jacksonville, heavy with Navy personnel from
NAS Jacksonville
, where my father was stationed. My father was an enlisted man in the Navy, my mom was a nurse at the local hospital who usually worked the evening 3:00pm to 11:00 pm shift. We had moved to Orange Park in August of 1974, when I was five, my brother 3 and my sister turned 1 on the day we moved into our house. We had just spent the past four years living in Spain while my father was stationed there.
Fast forward about five or six years (it is hard to pin down right now) and we had become a soccer family. Soccer was relatively new in northeast Florida, where the biggest sporting event of the year was probably the annual Florida-Georgia football game. American football and baseball dominated the sports landscape in that area. I had played little league baseball and pretty much sucked at it. I could field and throw pretty well, but I couldn't hit for jack, my batting average was pretty anemic, think I was 3 for 2 seasons. I didn't play football and I am not sure my father (who had played high school football and one year at college before being asked to leave college, which in itself is a humorous story) wanted me to play American football. We were looking around for something for me to play in the fall. And so, I first played soccer as a 9 year old, playing in only the second season of my local soccer club (the spring season there had been one team, in the fall there were 11 teams). Soccer exploded and from then on I was hooked and never played another organized sport until I joined the Navy.
Soccer was not something that kids played much in Northeast Florida and I can't say it was a fixture in my house until such time as both my brother and I started playing and trying out for travel teams. At that time when we had four TV channels, including PBS, there was not much in the way of soccer around. However, the legendary "Soccer Made In Germany" pretty quickly became almost required watching when it was on TV.
By the early 1980's we were a soccer family, my brother and I both playing. It was around this time that my father dicovered the old North American Soccer League and more specifically the Tampa Bay Rowdies. The Rowdies became one of the defining experiences of my childhood. The green and gold kits, the "Fannies" (the supporters group) and that great tag line "
Rowdies Are a Kick in the Grass." Going to these games became pretty regular fixtures during the summer. As a family, we would drive down to Tampa, maybe spend the day in Busch Gardens or see my great uncle in Orlando and then go to a match.
But the truly defining experience was the one day road trips on some Fridays. School, W.E. Cherry Elementary, let out around 3:00 pm. With my mother working the evening shift, my father, brother, sister and I would get in the van, drive four hours to Tampa. We would arrive just before game time, have stadium food to eat and watch the Rowdies play. Then after the game was over, we would climb back in to the van and drive four hours home. My dad had built a plywood platform that would fit into the back of the van for the kids to sleep on in addition to the bench seats in the van (this was way before child safety seats were mandatory). On the way home, we could sleep while my father drove. We would drive 8 hours round trip in order to watch a professional soccer game. It was a spectacular time as a kid.
Then usually the next day, my brother and I would then go play a soccer game or two and I would referee two or three games (at age 10 or 11).
Around this time, I remember a man coming around to the house soliciting subscribers for cable TV. I distinctly remember my father asking if the cable package contained Channel 44 out of Tampa since that was the channel that carried the Rowdies games (the package did not), but we got cable nonetheless.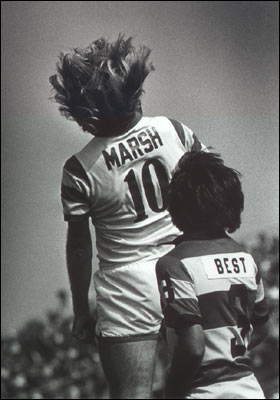 Although not an every week occurance, the same day trips to Tampa were as much a part of my soccer childhood as Saturday morning games with my friends. As a kid, I watched the likes of Englishmen Sam Allardyce and Rodney Marsh, the Brazilian Tatu and even early American players like goalkeeper Winston DuBose and the now legendary Glenn "Mooch" Myernick playing for the Rowdies. I remember seeing greats like Gerd Mueller playing for the Fort Lauderdale Strikers, Giorgio Chinaglia and Franz Beckenbauer of the New York Cosmos and Johann Cruyff of the Washington Diplomats (despite being a Rowdies fan, Cruyff was my idol and I wanted to be him as a player). Of course, at the time I didn't know that these men were more or less past their prime as players. But it was spectacular fun being at the game, where you would hear chants and the advertising tag line and some chucklehead dressed in a giant soccer ball head launching himself in to the goals.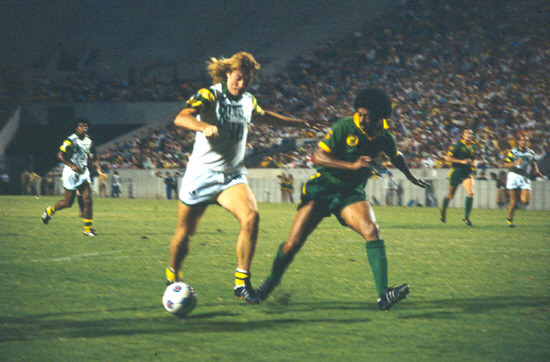 Check out the lack of shinguards!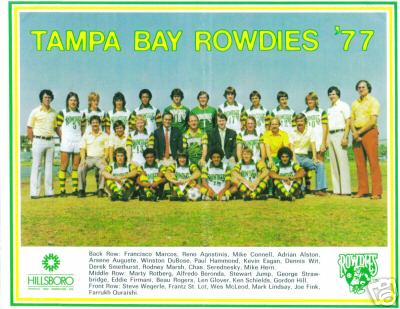 So what brings on this bit of nostalgia---
the Citrus Sports Group has reacquired the rights to the Rowdies name
and the club will be playing in the NASL again.
I have a new soccer mission in life, one I hope to accomplish in the upcoming year. I want to get down to Florida during the season and take my dad to a Rowdies game again. We
won't know the players in all likelihood
, and there probably won't be all the glitz, glamour and general nuttiness that accompanied the teams of the 1970's and 80's, but it won't matter. We know a heck of a lot more about the game now than we did in the 1980's and that makes the enjoyment of the game a lot better.
Sure, we probably won't do the trip from Orange Park to Tampa in a single day, although that surely would be fun since at least I can drive now. But for the chance to regrasp and relive a little bit of my childhood by going to a Rowdies game 30 years later is too sweet to pass up.
For me, soccer was then, is now and will forever remain, a "Kick in the Grass" thanks to the Rowdies.
UPDATE: On April 14, 2012 I accomplished my mission and took my father to a Rowdies Game. We drove down to Tampa and back in a day although we left early and had dinner with a Navy buddy of mine. Here is my dad and I at the game at half-time--thanks to random stranger sitting behind us. We were seated below the supporters group and it was a blast. Can't wait to do it again!